Deviled Eggs
I picked up this fabulous vintage cookbook at our last church new-to-you sale. I am drawn to old cookbooks like a moth to the proverbial flame! Especially when they have recipes that cater to one of my particular fancies, such as for my deviled egg website!
This recipe is very much a classic deviled egg recipe, but interestingly, has a good amount of mayonnaise, so you will find the filling soft and creamy.
There's also a fabulous picture on the same page as this recipe for how to make deviled-egg "daisies" - instead of halving the egg, you notch the small end of the egg to make a petal-like opening, pop out the yolks from there, and pipe the filling back in. Since they are wobbly standing on the end, you take a small slice off the fat end to help them stand up.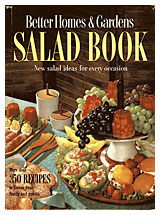 And without further ado, here's the recipe, typed as written:
6 hard-cooked eggs, halved lengthwise
¼ cup mayonnaise
¼ teaspoon salt
Dash pepper
2 teaspoons prepared mustard
1 tablespoon minced onion
1 tablespoon finely chopped celery (optional)
1 tablespoon finely chopped stuffed green olives (optional)*
Remove egg yolks. Mash, and combine with remaining ingredients. Refill egg whites, using pastry tube if desired. Chill. Trim tops with pimiento diamonds or paprika.
(For plump deviled eggs, refill only 8 halves; chop extras and use for tomoato-salad trim the next day.)
*Or substitute crumbled bacon, chopped pimiento, chives, sweet pickle, or parsley for the garnish.