Welcome to the Deviled Eggs Gourmet!
Welcome to my deviled egg recipe website. I created this site because I wanted to illustrate how easy and fun it is to make these tasty hors d'oeuvres. I am excited to share several of my best recipes with you and also a few that have been generously contributed by my readers over the years. Trust me, you don't have to take cooking classes or be a gourmet chef to do a fabulous job making devilled eggs for the Superbowl, Easter, 4th of July, Thanksgiving, Christmas or simply for your next family get-together. I will take you through the process from start to finish, from boiling the eggs, making the recipe and right through to serving suggestions, so even if you have never made a deviled egg before, I assure you that it's simple and that you will do a great job!
And enjoying delicious deviled eggs doesn't have to make you feel guilty that you are breaking your diet - deviled eggs are a great way to benefit from the excellent nutrition eggs have to offer. Just because you may be on a low cholesterol diet or a low fat diet does not mean you can't enjoy eggs in moderation. There's the key: moderation! (And always check with your health care provider for their recommendations in order to stay healthy and strong!)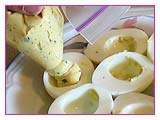 In the "How-To" section, you can click on the links in that section to go step-by-step through my instructions and photos.
In the "Recipes" section, you'll find my tasty deviled egg recipes. I also have a few hints and tips along the way for you that have helped make my kitchen more popular and my cooking successful.
For my regular visitors (you know who you are!) you'll be happy to note I have added some new recipes for deviled eggs on the recipe page this year - be sure to check them out!

And I truly hope you enjoy this site as much as I enjoyed making it.
If you have any comments, questions, or recipes to share, please use my "Contact" page because I always look forward to hearing from you!
Thanks,